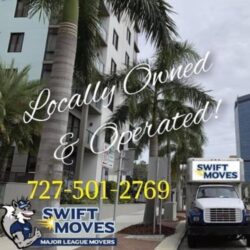 Jeremy Thompson Swift Moves 1101 Alhambra Way South St. Petersburg FL 33705- (727) 501-2769 swiftmovesllc@gmail.com
Swift Moves LLC is locally owned and operated and specializing in residential and commercial moving services in Pinellas and Manatee County as well as all of Tampa Bay Area.
Our goal at Swift Moves is to get your items moved safely, efficiently, and with a smile.
Our motto is "Making your move stress-free" and we do whatever it takes to keep this promise to you.
OUR SERVICES
Local Moving
Long Distance Moving
Residential Moving
Commercial Moving
Packing Services
Junk Removal
Senior Moving
We serve ALL of Florida including Sarasota, Manatee County, Sarasota County and the following key cities:
Bradenton, FL
Clearwater, FL
Largo, FL
Pinellas County, FL
Pinellas Park, FL
Sarasota, FL
St. Petersburg, FL
Seminole, FL
Tampa, FL
Let Us Make Your Move Stress-Free!
All of our trucks are equipped with all the necessities such as blankets, dollies, pads, straps, shrinkwrap and much more to make sure all of your items arrive safely in the new location.
We charge a flat hourly rate that is accurate down to the next quarter hour, so if we go 15 minutes into the next hour we don't charge you for a full hour.

WHY MOVE WITH US
Our movers are trained, respectful, clean-cut and will handle your belongings with care. They are all full-time employees- NO DAY LABORERS!!!
All of our trucks are equipped with all the necessities such as blankets, dollies, pads, straps, shrinkwrap, and much more to make sure all of your items arrive safely in the new location. We charge a flat hourly rate that is accurate down to the next quarter hour, so if we go 15 minutes into the next hour we don't charge you for a full hour.
Since we are locally owned and operated our pricing is much less when compared to the larger moving companies. We don't have to pay franchise fees, so we are able to pay our clean-cut movers more (and get quality employees) while passing the savings onto our loyal customers.
HOURS OF OPERATION:  Monday-Sunday - 8:00AM-5:00PM
Hello, my name is Jeremy Thompson and this is my amazing wife Lindsey and two wonderful children Madelynn and Max.
I am the owner and managing partner of Swift Moves LLC in St. Petersburg, Florida. Born and raised in Temple,TX, I moved to Florida in 1998 and starting attending the University of South Florida in Saint Petersburg shortly after. While earning my bachelors degree in business management I worked for a local moving company first as a helper, then a driver and was eventually asked to be part of the management team. Working here not only showed me how to run a successful moving company but also it taught me that you must always treat the customer right, the employees fairly and it's OK to put customer satisfaction over profit. With this expertise and knowledge I started Swift Moves in January 2016 and I haven't looked back since.
Working my way from mover to manager and eventually into owner of Swift Moves gives me unique insights that allows me to connect with the customer and the employee which ensures I can give our customer the highest and most professional level of service possible. Our promise is to provide a positive, memorable moving experience by getting the job done safely and efficiently, our guarantee is we will bend over backwards to keep this promise. Thank you for choosing Swift Moves!

Free estimate and $50 off your move when you "like" and "share" this post!!!
-Tampa Bay's #1 Rated Local Movers!
Locally Owned & Operated
Professionally Trained
Affordable
Reliable & Trustworthy
Fully Licensed & Insured (FL IM#2599)
Top Rated on Google, Yelp & Angie's List!
727-501-2769
SwiftMovesLLC.com
1499 Beach Dr SE,, St. Petersburg, FL 33701
For any moving and or storage needs.
Business, home, commercial moves performed within the State of Florida.
We are an agent for Wheaton Van Lines. As their partner, we can move anyone anywhere in the World.

A FOUNDATION OF EXCELLENCE

When Mark O'Laker started moving friends and family back in 1989, he simply enjoyed helping people through a tough and stressful experiences.
His operation, which was run out of the living room of his one-bedroom apartment, soon expanded into a full-service moving company because of the number of referrals and repeat business. This led to a rapid increase in people seeking quality moving services at competitive prices!
More than 30 years later, 3 Guys Moving still maintains the personal touch as a leader in the moving industry. Having helped customers in the commercial, residential, and government/military fields, and performing moves both domestically and internationally, 3 Guys Moving is providing the quality service and great value that the business was founded on over 30 years ago!
There are many options when it comes to moving companies in St. Petersburg, Fl, and the surrounding areas like Tampa and Brandon. With more than 25 years in business, we consider our full-service team to be the best. We are not just all talk either. These words translate into action!
If you need corporate relocation, piano moving, or other services such as storage units in Tampa, Fl, we have that available and always provide a personal touch. Our photo gallery showcases our fleet of moving trucks along with some of our team members in action. We take great pride in not only the services we offer but the level of customer service we are committed to providing.
Discover firsthand what sets us apart from the other moving and storage companies in Tampa, Fl. Explore 3GuysMoving.com to learn more about our approach and get in touch with us to talk about your needs!
OTHER SERVICES FROM OUR MOVING AND STORAGE COMPANY IN TAMPA, FL
3 Guys Moving are the area's number one choice for local movers in Tampa and the surrounding areas.
As a leader in the industry for over 30 years, our team specializes in corporate and residential relocation.
When your neighbors need to move, they count on us to get it done.
We take extra care to ensure that your items make it from one location to the other in their original condition.
Our moving and storage company in Tampa, FL, can also assist you with a range of other services:
Delivery Acceptance
Door To Door Services
Extra Large Items
Fine Art Moving
Furniture Delivery & Set-Up
Handicapped Accessibility
Indoor Storage
Valuation Protection Program
Inventory Control
Inventory Storage
Liability Coverage
Loading & Unloading
On-Site Management
Online Estimates
Packing & Crating
Packing & Unpacking
Pick-Up & Delivery
Referrals
Short Notice Moving
Storage
When you need high-quality moving services in Tampa, FL, and the surrounding areas, turn to the experts at 3 Guys Moving.
Trust us to get your important items to your new home or office safely.
Contact our team for an estimate today.
4529 Eagle Falls Pl., Tampa, FL 33619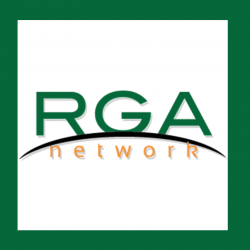 We are a moving, storage, and logistics company. I work in the commercial side of it but we do residential moves as well.
4756 122nd Ave N, Clearwater, FL 33762