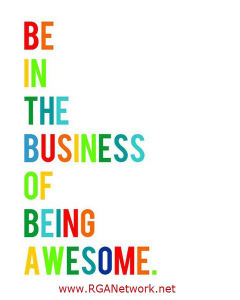 FACE time. The time you spend face-to-face with someone, getting to know him or her, and letting the other person get to know you.
When you come to an RGA networking meeting, you're with the best networking group in the Tampa Bay area. That holds true no matter which meeting you attend. Our weekly gatherings (almost two dozen of them, throughout the Tampa Bay area) may have different "personalities," but they all have the same goal: to introduce you to people who are passionate about success. Yours as well as theirs.
If you attend one of our larger meetings, you may not have a chance to speak with everyone. You'll still hear everyone's introduction, and you may get to know something about them as they participate in different features of our meetings. But in an hour, you can only do so much one-on-one.
To really take advantage of RGA and all we have to offer, you need to take that extra step to get to know your fellow networkers. Schedule a MOM or DAD (Meeting Outside the Meeting or Discussion After Dinner).
MOMs and DADs give you a chance to meet your networking connections as individuals, not as part of the RGA group. The two of you pick your time and place, and when you meet, you talk. And by that, I do NOT mean, "How 'bout them Bucs?" or "Nice weather we're having."
No, a MOM or DAD is your chance to understand each other, to explore the passions that drive each of you in your careers, to give voice to dreams, receive encouragement, maybe even give or receive advice or referrals. The purpose of a MOM or DAD isn't to do business, but to establish the foundation for each of you to build upon. Good networking is all about relationship-building, after all, and RGA is all about making great relationships.
There are other ways to increase your face time with RGA.
Each of our chapters has "mixers" or "socials." It's not unusual for RGA to host a mega-mixer, inviting all our 800+ members to get together in a large meeting hall. We may even partner with other organizations, like a Chamber of Commerce, to put new faces on your networking experience.
We have an annual Summer Trade Show, where you can showcase your products and services, and even do some business on site. The point here is to build on the relationships you've made through RGA, letting members see you and your products and services in a professional setting while keeping that critical personal contact in play.
At RGA, we believe in giving back. Several times throughout the year, we'll select a charity and help raise funds to advance its mission. Volunteering to help with these fund-raisers, which are usually a lot of fun, too, is a great way to meet new members and make a positive impact on our community.
When you become a member of RGA, you'll find yourself surrounded by a supportive community of business people who are interested in you, and in helping you succeed. When we say, "Welcome," we mean it!