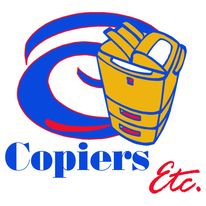 Copiers Etc is the leading source for all your imaging needs. Started in 1987 by Kerry Kalman, Copiers Etc has provided small businesses with the ideal copiers and printers at rock bottom prices.
We offer financing, leasing and rentals.
Kerry has been servicing copiers since 1982 and is an expert at setting you up with the right cost efficient copier or printer for your needs. Our specialty is last year's clearance & repossessed model copiers & printers.
Service is our number one priority. We service everything we sell. We provide installation on all printers & scanners. We even service older copiers and printers. Copiers Etc offers the only Satisfaction Warranty on all used copiers and printers.  We are so sure of the quality of all our used machines that we offer a 12-month  Satisfaction warranty.
Lynn Rosenthal joined Copiers Etc. in 2017 as our Marketing Coordinator. She brings many years of experience in marketing and sales to our firm.  Lynn is happy to help you with your printing needs.
We provide new, used, and lease returned copiers, printers, and scanners. We service most copiers and laser printers.